This post is part of a series sponsored by TransUnion.
Unprecedented economic disruption puts credit-based scoring to the test — and it passed with flying colors.
With the Coronavirus Aid, Relief and Economic Security (CARES) Act in 2020, the United States Congress acted to ensure that Americans who found themselves in financial distress due to the effects of the pandemic could protect their credit from economic conditions outside their control. The CARES Act helped protect those most in need during an unprecedented crisis.
Providing credit reporting accommodations to consumers in financial hardship is not a new practice. During COVID-19, data furnishers leveraged long-standing accommodation practices to provide relief to consumers facing financial hardship from events such as catastrophic weather events and other declared emergencies.
But the combination of those protections, the pandemic itself and its impact on the economy all raised concerns in the insurance industry. One important variable in the insurance underwriting process is a credit-based insurance risk score (hereinafter referred to as insurance risk score. That's not the same thing as a credit score. Although it draws on much of the same data, it's designed to predict insurance losses, not financial ability. Still, these scores draw from much of the same well of data as traditional credit scores, and are covered by some of the same regulations.
The overall question was: Did CARES Act accommodations reduce the quality of the analytics insurers rely on for decision-making? In fact, we now have enough hindsight to know that both the CARES Act and insurance risk scores worked as intended over the worst phases of the COVID-19 pandemic and the associated economic fallout.
Overall, most consumers who experienced hardship as a result of lost or reduced employment through no fault of their own were able to secure accommodations with lenders so their credit score wasn't negatively affected. Separately, but at the same time, insurance risk scores remained stable and predictive. Let's look at a couple of examples so to see how this played out in practice.
A study in stability
TransUnion CreditVision® Auto, an insurance risk score for auto insurance, provides a strong example of this stability. Figure 1 compares the monthly median score over the course of 2020 and into 2021 for the total credit-active population. A higher score indicates a lower insurance risk.
Figure 1. CreditVision Auto Insurance Score monthly median score.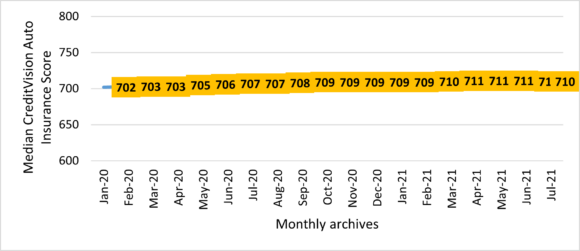 As you can see, this score showed strong stability throughout 2020 and into 2021. This stability reflects an underlying stability in the economy, cushioned by the post-lockdown recoveries and the stimulus provided by the CARES Act and other legislative interventions.
As of September 30, 2021 the number of consumers with at least one non-student loan accommodation on file has declined 67% since the peak of accommodation activity in the second quarter of 2020. TransUnion research has shown that the large majority of consumers continued to make payments on accounts in accommodations, and that 89% of accommodations have now been removed. The CARES Act's credit reporting provisions helped maintain stability in insurance risk scores, so that insurance providers and consumers weren't negatively affected by the initial sharp pandemic economic shock.
The CARES Act's consumer protections continue to apply after an accommodation ends. In June 2020, the Consumer Financial Protection Bureau (CFPB) published CARES Act consumer reporting guidance, outlining post-accommodation protections. The guidance specified that a consumer who had a "current" account status when an accommodation was entered cannot be reported as delinquent based upon the accommodation-covered period once the accommodation ends, assuming payments were not required, or the consumer met any payment requirements of the accommodation. Additionally, the accommodation-covered period cannot be used to advance, or accelerate, a delinquency once the accommodation ends.
Where we stand, and a look ahead
The credit accommodations built into the CARES Act were unprecedented in scale, but not in kind: Legislatively mandated accommodations are not new, and we can expect them to remain important in the future. The last 18 months have shown us that insurers can rely on the integrity of insurance risk scores even in a regulatory environment when certain derogatory information cannot be taken into account.
Still, there are concerns among the public and in the regulatory realm about the fairness of using credit-based scoring for insurance underwriting purposes. In future blogs, we'll be taking a look at fairness testing and the need for the industry to align on best practices, and see how insurers can share these positive messages with their public and government partners.
How to learn more
If you have questions about TransUnion, please visit transunion.com/industry/insurance or email inssupt@transunion.com.
The most important insurance news,in your inbox every business day.
Get the insurance industry's trusted newsletter