The fire apparatus in use today have certainly come a long way since 1905 when the Knox Automobile Company of Springfield, Massachusetts, began selling a vehicle that has since been designated as the world's first "modern" fire engine. Today's fire apparatus is an engineering marvel that's safer, more effective and more efficient than early-20th-century firefighters could have ever imagined.
Just a few years ago, I wrote the article "8 game-changing apparatus trends from 2017," looking at new technology that would enable fire departments to get more operational capability out of fewer fire apparatus while keeping up with the expanded scope of the job and decreased staffing. That evolution is ongoing, with technology innovations happening faster than ever.
Because many fire departments are operating apparatus that are 20 or 30 years old, now is an ideal time to get up to speed on the next wave of developments in fire apparatus manufacturing. Let's look at some of these new trends in fire apparatus development and manufacturing.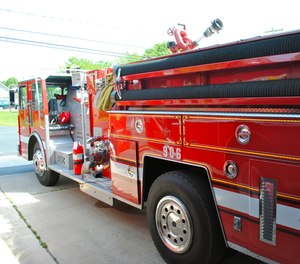 Trend 1: Enhanced electronic controls
Many of the innovations present in automobiles and light trucks are now being used by fire apparatus manufacturers to produce units that are easier to operate, more efficient, and easier to maintain and repair. Features like touchscreens and computerized equipment (e.g., digital pump panel controls and master stream controls) are streamlining apparatus operation, and a new generation of firefighters is embracing this approach.
Apparatus manufacturers, and fire departments creating specifications for new apparatus, welcome these developments for several reasons:
Electronics save space on apparatus when compared to previous mechanical controls, allowing designers to create more useable space for personnel, hose and equipment.
Multiplex electronics make troubleshooting electrical problems easier by minimizing the use of bulky wire bundles.
Wireless communication allows firefighters to operate some apparatus control panels using wireless devices, such as tablets or smartphones.
Small, durable wireless cameras can be mounted anywhere on fire apparatus to give the driver/operator a 360-degree view around their apparatus, which improves safety and situational awareness.
On-board telematics control units (TCU) continually monitor the engine, transmission, brake systems, fluid levels, system voltage, operating hours and vehicle location, while also providing customized vehicle readiness reports to fire departments by email.
Finally, some manufacturers are offering smart truck technology that continuously and remotely monitors the health or condition of apparatus. This technology can decrease apparatus downtime because by detecting an emerging problem with apparatus performance, which means the problem can be fixed earlier and lessen downtime.
Trend 2: Features to minimize potential driver errors
Fire apparatus manufacturers have embraced the use of technologies available in automobiles to help drivers avoid operating mistakes. Some of the more popular technologies being used are:
Automatic emergency braking: Vehicle-mounted sensors, such as radar, cameras or lasers, detect an impending crash, warn the driver and apply brakes if the driver doesn't respond fast enough.
Electronic stability control (ESC): Designed to help the driver/operator in maintaining control on slippery roads and avoid a rollover crash.
Collision avoidance systems: Aid the driver/operator with blind spot detection, rear cross-traffic alerts and forward-collision warnings.
Vision enhancement systems: The use of a forward-looking infrared camera to provide the driver/operator with better visibility when navigating an apparatus in low-visibility environments.
Trend 3: Vehicle-to-vehicle communications
Vehicle-to-vehicle (V2V) communication makes it possible for vehicles to broadcast and receive omni-directional messages to create a 360-degree awareness of other nearby vehicles. Using a protocol like Wi-Fi, vehicles equipped with V2V can use those messages to identify potential crash threats as they develop. For example, V2V communication could alert the fire apparatus driver/operator that a vehicle is approaching an intersection without slowing down.
Several fire departments across the United States are testing V2V communication for use in their fleets. This technology has the potential to vastly improve firefighter safety, particularly when responding to calls. The devices can be installed by the apparatus manufacturer or later by fire departments. As an emerging technology, it's unclear how soon these systems may become the norm on fire apparatus, but the continuing development of FirstNet, the first nationwide network dedicated to public safety, should give this technology a boost.
[Opinion: A plea to first responders: Join FirstNet to expand your communications options]
Trend 4: Protecting firefighters from contaminants
Fire departments' adoption of the clean cab concept for fire apparatus to protect their firefighters from cancer-causing contaminants has prompted fire departments and manufacturers to create compartment space outside the crew compartment so that contaminated gear and equipment can be isolated from personnel when they're returning to quarters.
Apparatus manufacturers are maximizing storage compartments as part of overall apparatus design. Relocating equipment outside the cab is also helpful in case of an apparatus accident because there are no unsecured items in the cab to become moving projectiles that can injure firefighters.
Crew compartments are being designed using non-porous materials to minimize contamination and enable firefighters to clean those surfaces more safely, effectively and efficiently. Crew seats can be treated with antimicrobial finishes, and removable seat covers are available.
[Read next: Getting your apparatus clean cab- or 'cleaner cab'-ready]
Trend 5: Smaller apparatus for specialized duties
Many fire departments are learning that more nimble fire apparatus using a smaller chassis can provide several advantages, including the capability to handle smaller incidents while reducing the wear-and-tear on larger, more expensive fire pumper and aerial apparatus. Smaller vehicles may be:
• Easier to maneuver so they can be driven into tight spaces for better access to a fire in its incipient stage.
• Easier to drive, a factor particularly useful in volunteer-staffed and combination departments where firefighters may not be accustomed to driving large trucks and where training costs to operate larger apparatus may be cost-prohibitive.
• More economical to operate, plus there's an advantage of less wear-and-tear on a department's full-sized apparatus, which can extend its service life.
• Operationally flexible because smaller-chassis vehicles can be adapted as paramedic/EMS vehicles, as a quick response vehicle with a water tank and CAFS, or as a tactical rescue vehicle. Smaller apparatus requires fewer firefighters to operate, a real plus for volunteer-staffed departments or combination departments.
Read Next: Is an initial-attack apparatus or QRV right for your department?
Trend 6: The impact of sticker shock on shrinking budgets
In an earlier article, "Considering the 'new normal' for fire apparatus," we looked at how will fire departments need to adapt for continued service delivery as fire department budgets are stretched these days. In many fire departments, existing fleets of fire apparatus are aging and replacements are expensive. Consider that pumpers can cost $500,000 or more with aerial apparatus running upwards of $850,000.
Trend 7: Standards drive the next wave of apparatus developments
NFPA 1901: Standard for Automotive Fire Apparatus is a 200-plus-page document that details a variety of consensus standards about fire equipment and apparatus. "Consensus" means the standards were developed by a committee of experts that includes stakeholders representing a balance of interests. The voluntary standard defines the requirements for new automotive fire apparatus and trailers designed for use under emergency conditions to transport personnel and equipment, and to support the suppression of fires and mitigation of other hazardous situations.
Historically, changes to NFPA 1901 have centered on making the apparatus safer. The standard provides guidance for the development and evolution in the fire apparatus field and reflects changing expectations for performance and compliance of fire equipment. For example, revisions to the 2016 version of NFPA 1901 included a requirement for a vehicle data recorder to capture data that can be used to promote safe driving and riding practices. Also added in 2016 were requirements for operation and performance of diesel particulate filters, and requirements for minimum length of seat belts.